PRIVATE EQUITY RECRUITMENT MARKET - WHAT TO WATCH OUT FOR
​The recruitment market for private equity firms remains strong. More firms are looking to hire additional staff to meet growing demand from investors, with competition for top talent remaining strong.
Following our survey, here are some key trends to watch out for:
Salaries are rising: Firms are willing to pay more to attract and retain top talent. In particular, salaries for deal-related roles (e.g. investment bankers, consultants) have seen the biggest increases.
Competition for top talent is intensifying: With more firms looking to hire, competition for top candidates has increased.
Work/life balance is key: Firms should be aware that in a competitive market for talent, individuals are demanding a better work/life balance.
Hiring is becoming more strategic: Firms are taking a more strategic approach to hiring, emphasising finding candidates who fit the firm's culture and values.
​
To further understand the current market, we asked over 300 participants to answer the following questions. This is what they had to say: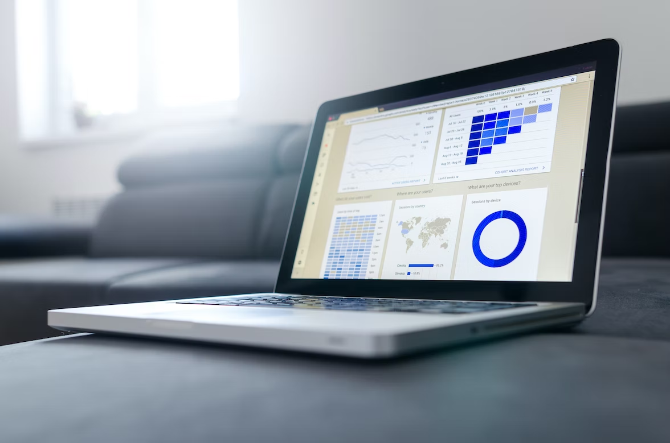 What are the most important factors to you when considering a new job?
If there were a word that defined the year 2021, it would be "overwhelmed." After a year and a half into the pandemic, with overflowing inboxes and back-to-back meetings, people are tired. People are also searching for an answer to this digital exhaustion
Over 50% stated that compensation and work/life balance were the most important factors when considering a new job. This is likely a nod towards the realities of the new working world we live in post-Covid-19, where demand for talent pushes high salary expectations. Yet individuals have seen they can achieve this with a greater balance between personal and professional life, with the opportunity of hybrid work. Others commented on location and development opportunities as factors in their search.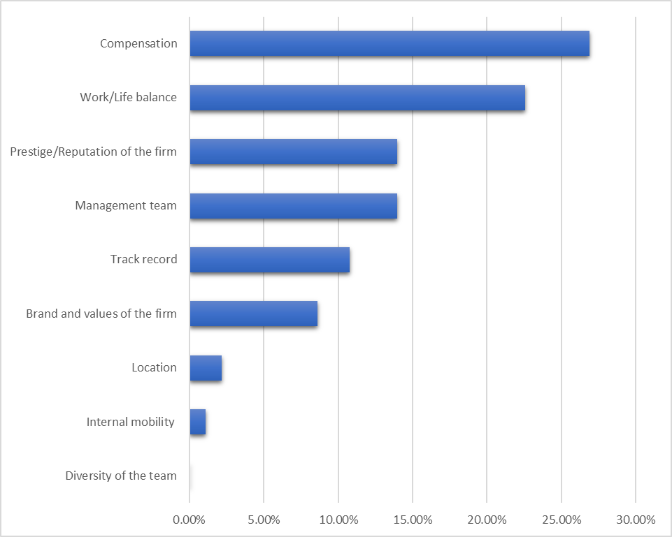 What is most likely to make you consider a move from your current firm?
Interestingly, the above results are compounded by the reasons individuals would also consider a move from their current firm, with a majority again stating that compensation and work/life balance were the most important factors. This is likely a further indication that individuals feel they can achieve their desired lifestyle elsewhere and are willing to make a move for the right offer.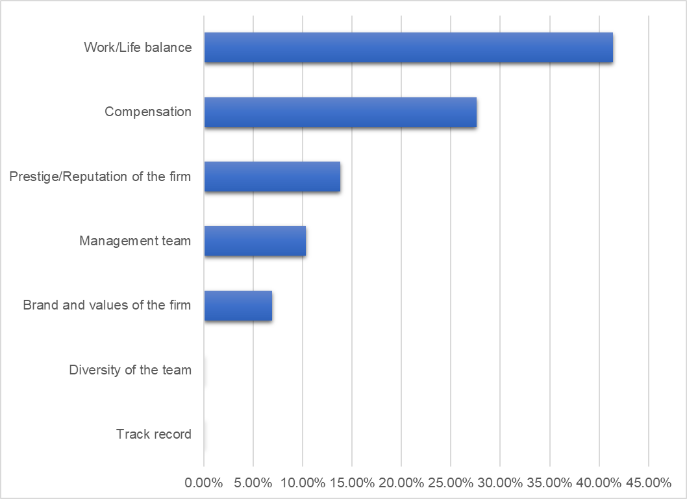 ​

Have changes to recent macro conditions, i.e. cost of living and market volatility, made you more or less likely to look for a job?
Most people who responded to this survey said they were more likely than not looking for work. However, almost 44% claimed that recent macro conditions had no impact on their likelihood in searching and taking up new roles - which could be interpreted differently depending upon how you think about it: either these individuals feel secure enough with what's happening right now so there isn't much incentive or simply, can wait until something better comes along before considering leaving.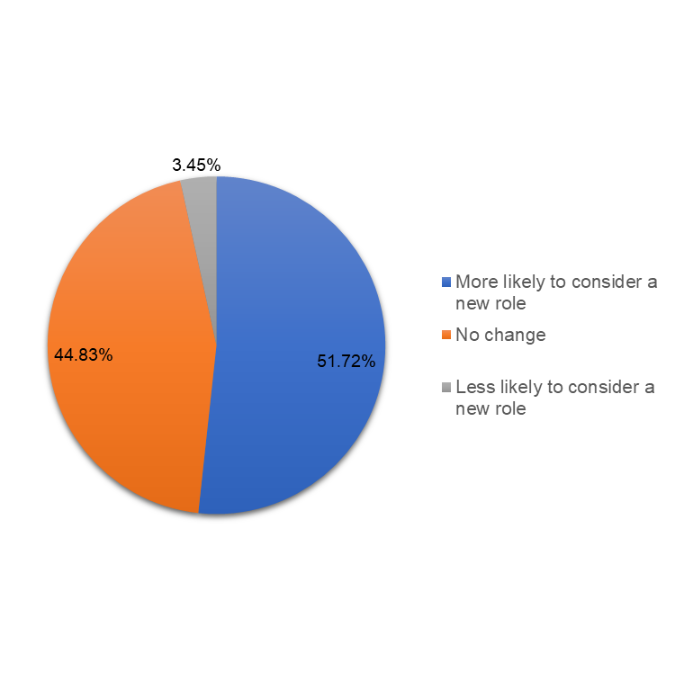 In the past year, have you noticed a change in how much you are being approached for new job opportunities?
A resounding number of individuals said they had noticed an increase in the number of approaches for new job opportunities, which is likely a result of the current war for talent. With so many firms looking to hire, top talent is in high demand and individuals are being courted by "multiple suitors". Overall, the PE recruitment market remains strong, with salaries rising and competition for top talent intensifying as firms continue to invest and hire despite uncertainty surrounding macroeconomic conditions.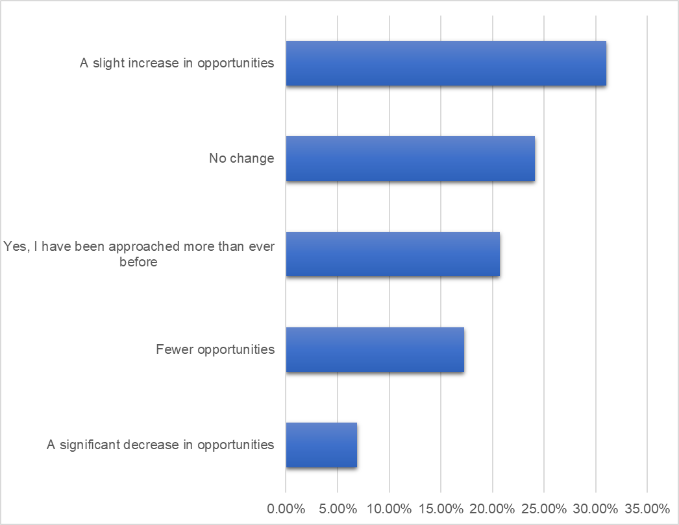 When interviewing for a prospective firm, what is the most important thing you want to see demonstrated in the 1st interview?
The most popular answer was "brand values of the firm," which indicates that individuals are looking for firms that align with their values. Other popular answers included "track record", "management team", and "team culture."
Individuals want to see that the firm they are interviewing with is one they can see themselves working for long-term. This means that the firm's brand values are important, alongside a sense of the team culture and management. The firm's track record is also important, as it can give insight into how successful the firm has been in the past.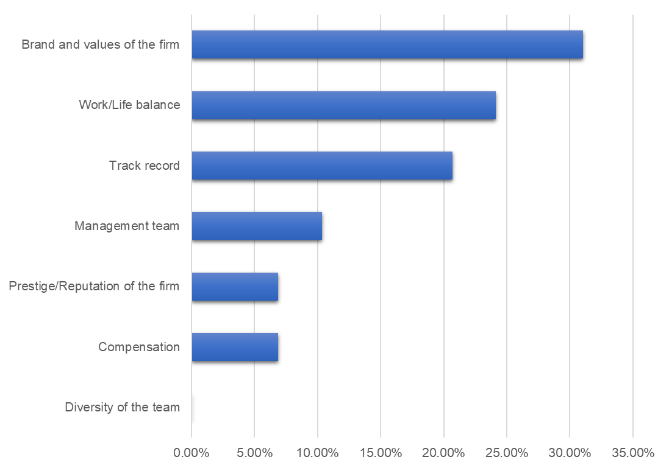 Takeaways:
Employers are looking for an advantage within their recruitment process, with competition being higher than ever. Our survey has identified key focus areas, with the most critical factor; offering a good work-life balance. This contrasts with many private equity funds and PE-backed portfolio companies that have tended to revert to pre-pandemic working conditions and, therefore, missed an opportunity versus focusing on other methods to attract staff (company performance, fund strategy, management team).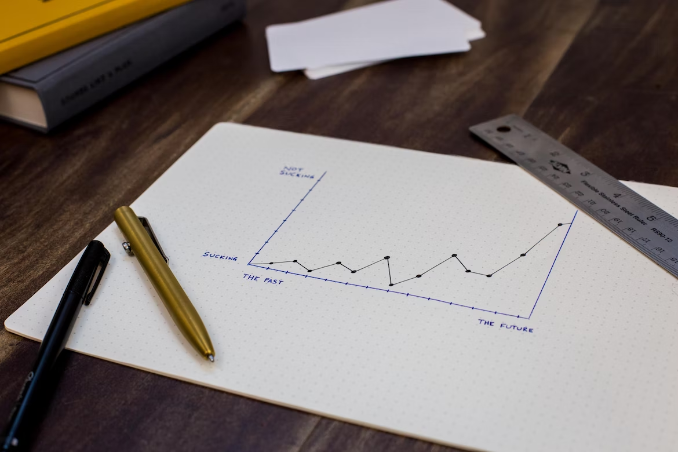 Offering a good work-life balance can give you a recruitment advantage but it's also important to remember that it's not just about offering more time off. It's about creating an environment where employees feel supported and valued, and an individual's output becomes a core business driver rather than the number of hours worked.
The company's values and the business's approach to what it expects of its personnel are all linked to work-life balance. Therefore, communicating clearly to prospective or current employees what your firm values and how it has evolved with the times will both aid retention and enable you to attract the best talent.
​​For more insights and analysis contact info@altus-partners.com
​About Altus Partners
Altus Partners stands for quality and integrity and is committed to empowering growth within global private equity. We provide Executive Search & Advisory for Investment, M&A and Finance leadership.
We strive to change the private equity sector by promoting diversity and equality. Our mission is to challenge the status quo and create a more open, inclusive industry where everyone has an equal opportunity to succeed. We believe that together, we can make this happen.
We do this by being committed to delivering the highest quality outcomes for our clients and candidates. Our specialist methodology and industry expertise have enabled us to become leaders in our field and strive to provide the best in every aspect of our work. We are proud to have built a reputation for excellence that sets us apart from the competition.